License:
El Domo Open Source Water Filter © 2021 by el-domo.com is licensed under CC BY 4.0 
http://creativecommons.org/licenses/by/4.0/
This license requires that reusers give credit to the creator. It allows reusers to distribute, remix, adapt, and build upon the material in any medium or format, even for commercial purposes.


Esta licencia requiere que los reutilizadores den crédito al creador. Permite a los reutilizadores distribuir, mezclar, adaptar y desarrollar el material en cualquier medio o formato, incluso con fines comerciales.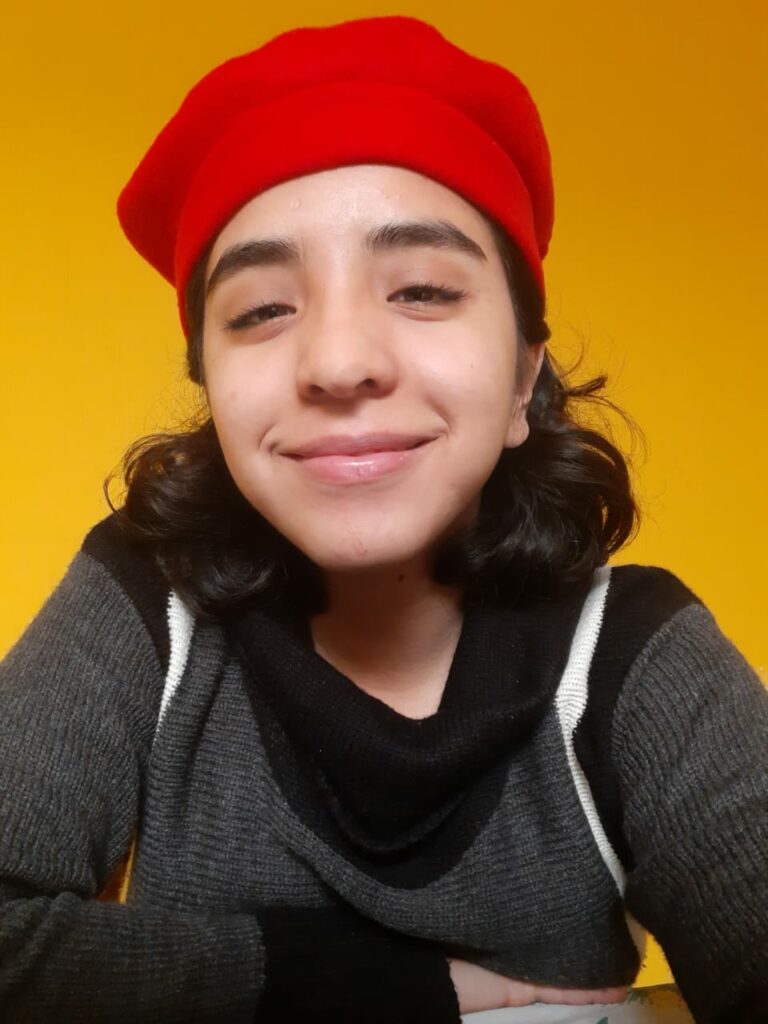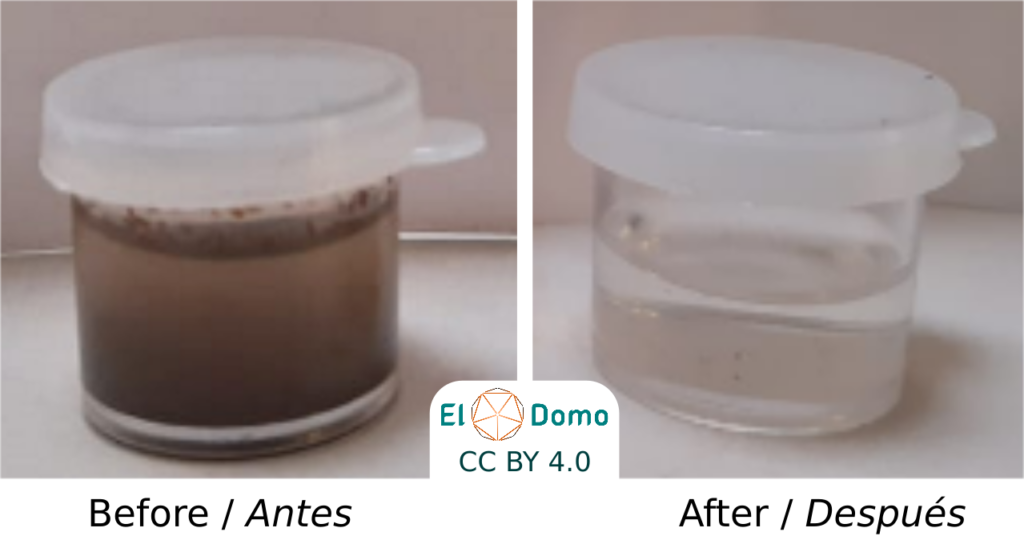 Moringa seeds are used in many places in the African continent to clean water in a primitive way. We wanted to use this plant scientifically to prove its benefits and its true capabilities. In addition to that, we wanted to build a system using affordable available materials without compromising the functions. Cleaning the subsystems should be also easy and cheap to do.
Las semillas de moringa se utilizan en muchos lugares del continente africano para limpiar el agua de forma primitiva. Queríamos utilizar esta planta científicamente para demostrar sus beneficios y sus verdaderas capacidades. Además de eso, queríamos construir un sistema utilizando materiales asequibles disponibles sin comprometer las funciones. La limpieza de los subsistemas también debería ser fácil y económica.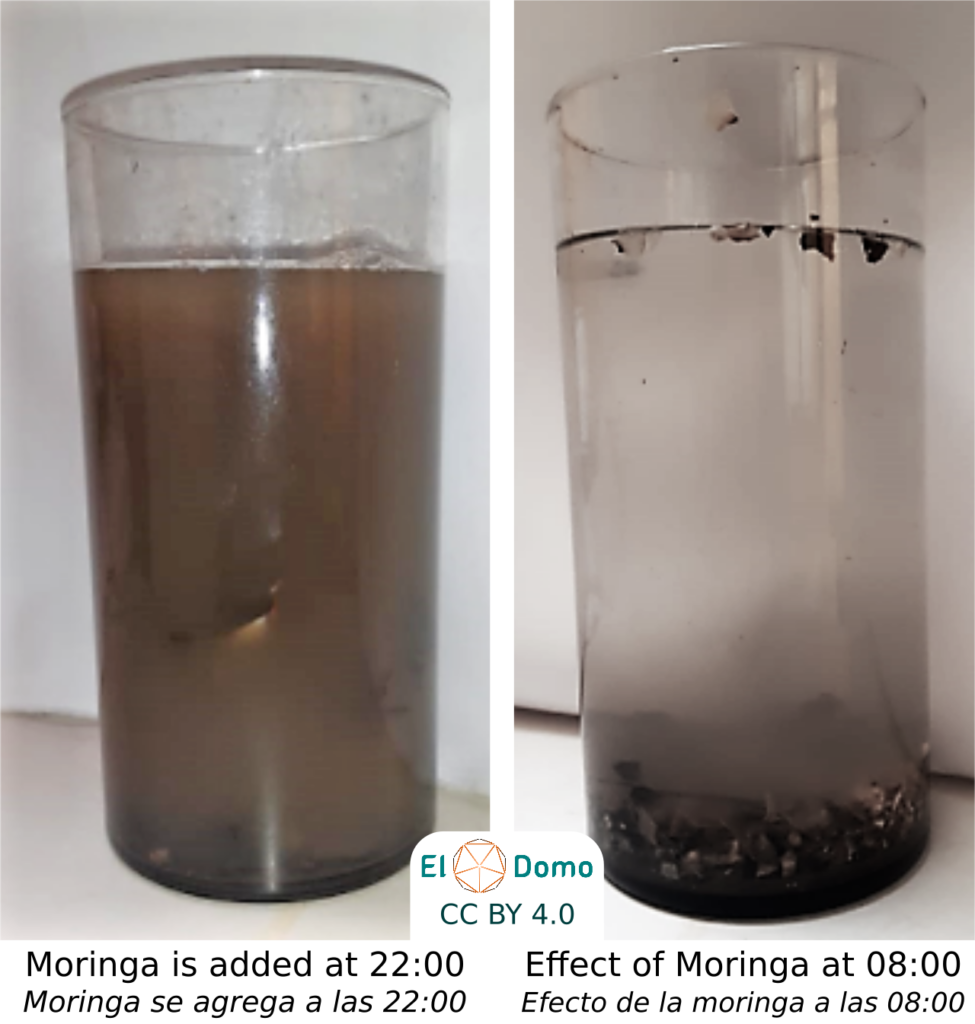 This picture shows the effect using of Moringa seeds and what does this do with the dirty water after only a few hours. We use this separation in our system.
Esta imagen muestra el efecto de usar semillas de Moringa y qué hace esto con el agua sucia después de solo unas pocas horas. Usamos esta separación en nuestro sistema.
Besides that, Moringa also disinfects the water. German institutions already demonstrated this years ago. But since we couldn't find these studies, we did our own tests.
Además de eso, Moringa también desinfecta el agua. Las instituciones alemanas ya lo demostraron hace años. Pero como no pudimos encontrar estos estudios, hicimos nuestras propias pruebas.
Here in this document, you can view the methodology and test results in English.
Aquí, en este documento, puede consultar la metodología y los resultados de la prueba en español.
At the end of this project, a functioning system was presented that not only delivers clear water free of particles but also bacterially disinfected.
Al final de este proyecto, se presentó un sistema en funcionamiento que no solo entrega agua limpia y libre de partículas, sino también desinfectada.
This PDF file is the English tutorial. And to see the construction process with voice-over in English, click here.
Este archivo PDF es el tutorial en español para imprimir, si es necesario. Y para ver el proceso de construcción con locución en español, haga clic aquí.
Understand this as a design that you can build exactly as we explained or as a basic concept for your own construction with your own materials and needs.
Comprenda esto como un diseño que puede construir exactamente como le explicamos o como un concepto básico para su propia construcción con sus propios materiales y necesidades.
For the use of the filter, it is recommended:
Para el uso del filtro se recomienda:
Monitor your usage constantly.
Monitorear su uso constantemente.
Do not use moringa seed powder more than two times.
No utilizar el polvo de semillas de moringa en más de dos ocasiones.
Clean the filter after 4-5 uses, it depends on how dirty the added liquid is. Wash the bags (as due to the constant humidity it can attract mold).
Limpiar el filtro luego de 4-5 usos, depende de qué tan sucio esté el líquido agregado. Lavar las bolsas (ya que debido a la constante humedad puede atraer moho).
Let the water flow into the filter and collect it immediately. (Do not puddle it because it can cause carbon particles to collect and become dirty).
Dejar que el agua fluya en el filtro y recolectarla de inmediato. (No empozarla porque puede causar que se almacene partículas del carbón y se ensucie).
The first time you use fresh dry charcoal, use the collected water for cleaning or add it back to the filter system, before drinking. The reason for this is that fresh charcoal could produce a lot of charcoal particles.
La primera vez que use carbón seco fresco, use el agua recolectada para limpiar o agréguela nuevamente al sistema de filtrado, antes de beberla. La razón de esto es que el carbón vegetal fresco podría producir muchas partículas de carbón vegetal.
Maintain a hygienic construction and use process.
Mantener un proceso higiénico de construcción y uso.
Water is Life
El Agua es Vida
Share this project everywhere. Help us inform organizations and individuals about it. Thanks.
Comparte este proyecto en todas partes. Ayúdanos a informar a organizaciones e individuos al respecto. Gracias.